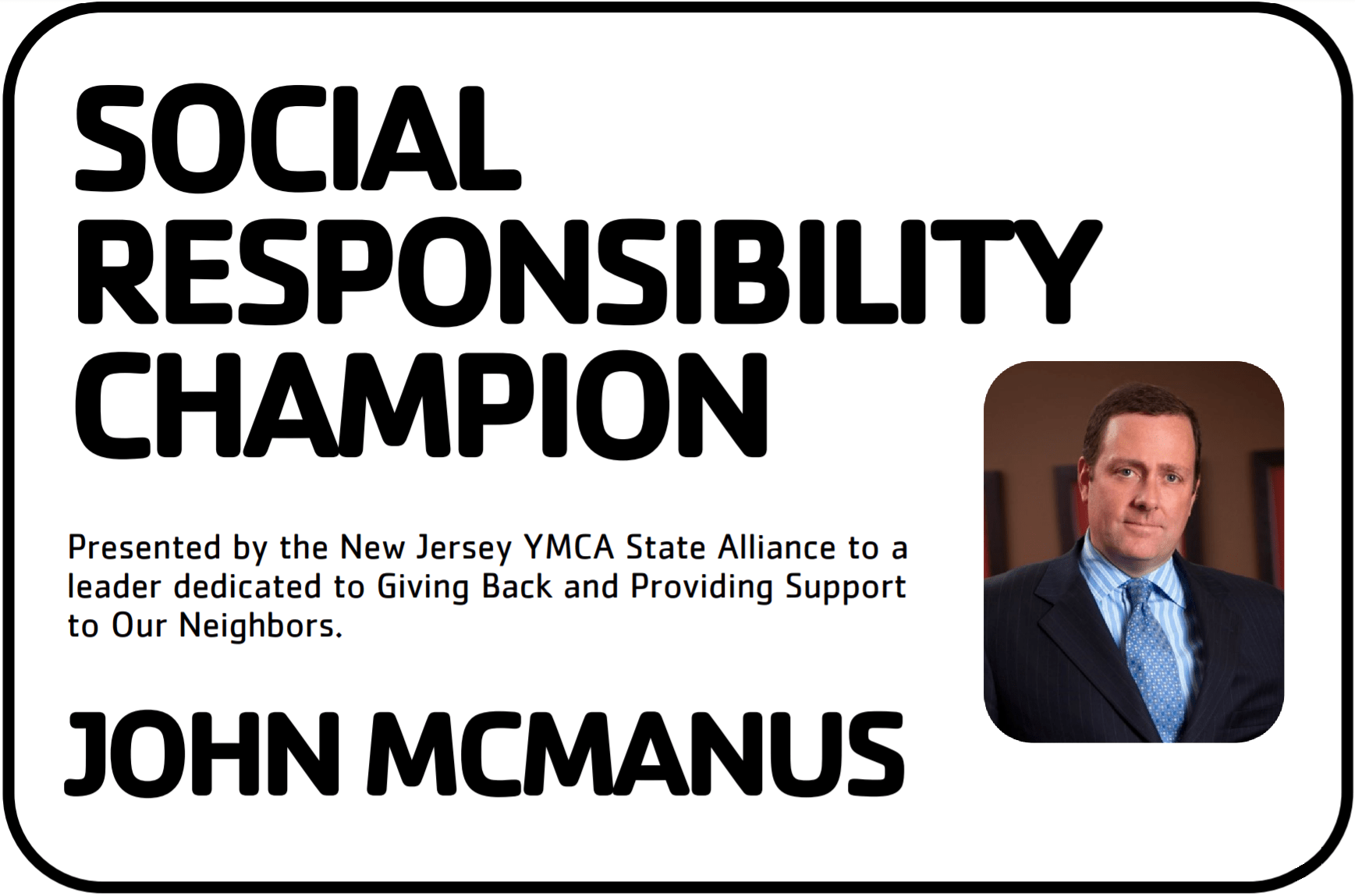 John O. McManus, founder of trusts and estates firm McManus & Associates, was honored statewide with the New Jersey YMCA State Alliance 2018 Social Responsibility Champion Award for his devotion and passionate advocacy to the Y and the community for over 10 years. In 2005, John joined Somerset County YMCA's (SCYMCA) Board of Directors and currently is the Vice Chair of the Board of Directors and Chair of the Board Governance Committee, as well as serving on the Financial Development Committee and Capital Campaign Leadership Cabinet. Recently, John was elected by his peers to be the next Board Chair beginning in January 2019.
See the YMCA's release on McManus being named the New Jersey YMCA State Alliance 2018 Social Responsibility Champion Award by clicking here.
According to Somerset County YMCA Board Chair Mark Irwin:
While John has effectively raised funds throughout his service to the Y, his increased enthusiasm over the past six years has been remarkable.

From 2013 through 2018, John personally raised $279,440 for SCYMCA, which helped to surpass the campaign goal each year. In 2012, overall gifts to the Annual Campaign equaled $185,668, and in 2018 SCYMCA raised a total of $1,003,526 – a 540% increase.
Irwin continued:
Through his tenure as a volunteer, John has grown as a respected, cause-driven leader. His dedication to the Y has resulted in vital funds that help the Y to provide financial assistance and mission-based programs, which enhance quality of life and make a meaningful difference.

John strengthens community by bringing the Y's mission to life and ensuring that everyone in the community has the opportunity to learn, grow and thrive.

John consistently demonstrates a passion for giving back to advance the Y's mission and to address challenging community needs.
Click here to read Irwin's full speech on McManus' unique and outstanding contributions to the Y.
In his speech at the award ceremony, McManus shared the secret behind his success:
For my wife and me, fundraising has become second nature. It starts with a story that we believe in that must be communicated well to a group that is passionate about helping others and delivered to a consistently-engaged, ever expanding-group of patrons.
Click here to read McManus' full speech, including the five lessons he learned while growing up in the Bronx that fashioned, as described by Irwin and others, his "gift" as a fundraiser.
For help achieving outstanding philanthropic results consistent with your values, call McManus & Associates at 908-898-0100.