Colleen Moriarty, a seasoned health and lifestyle writer and a staff writer for Addiction.com, recently tapped McManus & Associates for advice on important legal documents that should be put in place for children who are already 18 or will soon be of legal age before they head off to school. Her article, "Help Your Child Stay Safe at College", is part of a series called Off to College 2015: The First Six Weeks.
Moriarty's article opens by shedding light on the importance of planning ahead to protect college-bound children, because, as McManus points out:
"If an accident, emergency, mental health crisis or trouble with substance abuse should arise after your son or daughter's 18th birthday, you have little or no legal right to step in without legal documents that explicitly give you that authority."
Before adult children become big men and women on campus, which legal documents should they strongly consider completing to provide parents with the authority to act with respect to their medical, legal and financial needs if they get sick or hurt, or are otherwise unable to handle their own affairs? A helpful graphic from the story: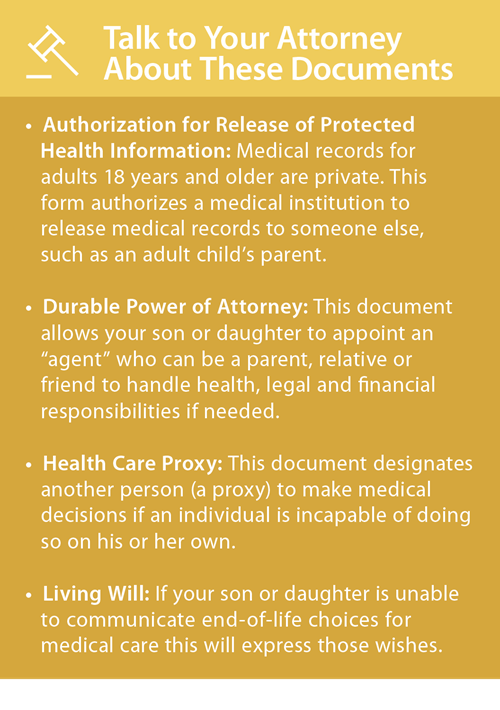 According to McManus, "without these executed documents, colleges, clinics and hospitals will not release a student's medical records — even to parents — if the student is over the age of 18…Without a back-up decision maker in place [meaning a parent or other designated adult], there is a risk of inadequate, inappropriate or insufficient medical care if your child is incapacitated."
Of note, these legal documents cannot be signed until the age of 18, and they can be revoked at any time.
So how should a parent discuss the need for such legal documents with their newly adult child? McManus shared personal experience to convey his thoughts:
"Being the child of an attorney, my daughter pored through these documents to find out exactly what powers she was giving. She signed because she realized that they could keep her safe if she got into an accident or had a medical emergency while at college. The piece that I emphasized with her was that her mother and I would only step in if she was in danger – and that's danger with a capital 'D'."
To see the list of DOs and DON'Ts for parents when it comes to working with a child to get these documents in place, find the full article here.
To ensure that the correct documents (forms vary by state) are properly executed to adequately protect your adult child, call McManus & Associates at 908-898-0100 or send an email to reception@mcmanuslegal.com.